Langton Parents Association
Langton Parents' Association welcomes all parents and carers to Simon Langton Boys' Grammar School. Langton Parents Association is a registered charity (ref 810298) that exists to support the school by raising extra money to enhance students' learning and development, and to provide opportunities for parents and carers to meet socially.
Our purpose is to:
1. Encourage good communication and relationships between parents/carers, school and students
2. Support the school in providing an excellent education to all students
3. Assist the school in its fundraising activities
4. Enhance the students' experience during their time at the school.
Ongoing Activities
We run and organise activities such as:
Second-Hand School Uniform sales
Quiz nights
Providing refreshments at school concerts and at drama productions
Supporting the Star Centre's public observing events held in conjunction with the South East Kent Astronomical Society – providing hot refreshments
Providing refreshments at the school's Induction Day as part of the welcome to all new parents.
Parents Association wish to thank all those who came to the Curry and Quiz night on the 6 March – you helped raise a fantastic £1,917 for the school which will be shared between the F1, Robotics projects and Sports dept. Thank you to everyone who participated and helped with this event. A big thank you!
Purchases
Recent school purchases made possible by the Parents' Association fund-raising include:
Refurbishing the school hall
The Formula 1 Project
New Robotics equipment so that students can run additional teams in 2020/21
Sports kit – new hockey sticks
Pump for the pond near the Tong Centre
Other past purchases include:
A laser cutter and a brazing hearth for Design Technology,
Lighting and photographic equipment for the Drama and Art Departments,
Binoculars for star gazing
Significant contribution to the grand piano in the Tong Centre and Main Hall
A new cricket roller
Latest News From the PA
With the Covid-19 pandemic our usual fund raising activities have had to be postponed.  We always like to meet parents of students at the school and any help they can provide such as suggesting fundraising ideas, joining the committee and attending meetings (usually held over drinks in a nearby pub), offering to help at events, or by donating raffle prizes is gratefully received.  We are a friendly bunch of parents with children at different stages in their journey through The Langton.  Becoming involved provides a rewarding insight into the achievements and opportunities enjoyed by the students.  You are warmly invited to attend any of our meetings and events.  See details below of upcoming events:
Future meeting dates
The Simon Langton Boys' School Parents' Association will be holding their AGM on Wednesday 7th March at 8pm via Zoom. If any parent would like to join the meeting could they please email Mick Stevens requesting an invite using the email address below.
Mick Stevens
Chair Parents Association
langtonparents@thelangton.kent.sch.uk
Membership
All parents/carers are automatically members of Langton Parents when their son or daughter joins the school. A number of people have generously given their time and energy to the association over the years, but we are always keen to involve as many parents/carers as possible, and to make best use of the skills and resources we undoubtedly have as a parent/carer community to provide the best support to the school.
Committee Roles:
Chairperson: Mick Stevens
Secretary: Katharine Hughes
Treasurer: Julia Zoettl
School Representative:  Darren Watson (Deputy Headteacher)
To Find Out More
If you are interested in finding out more, please contact us at: langtonparents@thelangton.kent.sch.uk
Fundraising with the Parents' Association
Whilst we are unable to hold our usual fund raising social events please think about using the 'Give as you Live' site below.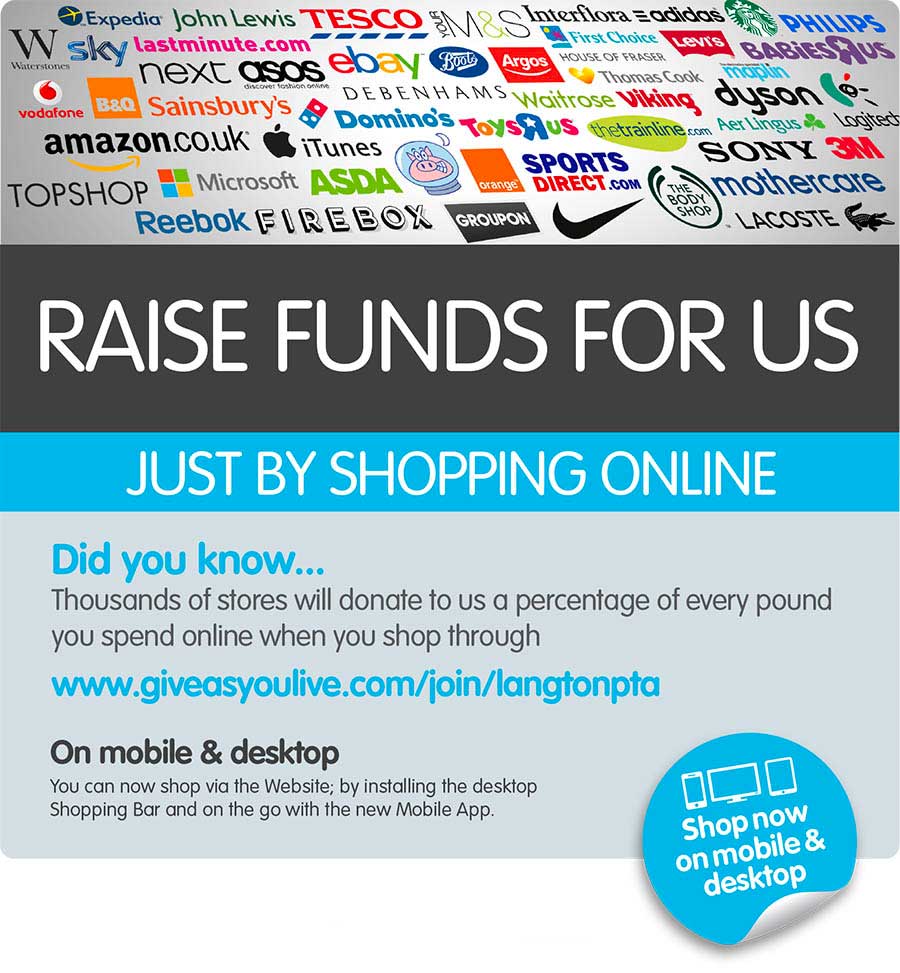 Many Langton parents are already fundraising for the Parents' Association every time they shop online. Give As You Live provides a small percentage payment to the Langton Parents' Association for each online purchase – at no extra cost to the consumer. If you would like to set up this free fundraising mechanism, please visit http://www.everyclick.com/langtonpta for further information.